Best Electric Beach Cruiser
Posted by EBC Support on
Why Chose a Beach Cruiser

Beach Cruiser are simply the most comfortable and casual ride one only hope to find when rolling around on two wheels. There are multiple things you should consider when searching for the best electric beach cruiser Keeping things in there simplest form can appeal to both beginners and those looking to escape the complications of multiple speeds. Single speed bikes are better for flat environments usually beach walks and storefronts are where you find the most Sunday strollers. These bikes are especially fun to ride because of there big comfy seats and relaxed wide-set handlebars.
Electric Cruisers can vary a lot based off of design and power. To begin, most Electric cruisers will come with pedal assist or throttle-only mode options some newer models can have multiple levels of pedal-assist. The prime range for electric cruisers should be approximately 2omph. Overly-Geared bikes can be a hassle, most Beach cruisers are single speed. Furthermore, some cruiser bicycles come with gender-specific seats, although some women find men's seats preferrable and vice versa the Option is always there where the more specialized bike types don't always cater to these things.
Important Features
Max Speed
Range
Motor 

A2B Entz Cruise Electric Commuter Bike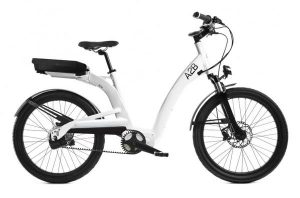 NOW 50% OFF (MSRP $4,999)
The Entz is the premier model in the A2B catalog. This model combines the newest in pedal assist technology with the smoothest and most relaxing ride. The Entz offers both the standard or deluxe model. German-designed and built, both models are powered by pedal assist. The Entz is the first bike that comes to mind when looking for the best electric beach cruiser!
Top Speed 25m/h
Range 75 km
Lithium-Ion, 36v 250 Watt Motor
Big Cat Long Beach 500 Electric Beach Cruiser Bike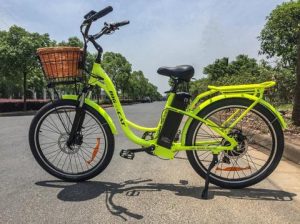 This e-bike is a step-through-frame-style beach cruiser, with a 500w geared rear hub motor, a 48V 12Ah lithium ion battery, and 4" balloon tires.  The Big Cat Long Beach 500 Electric Beach Cruiser Bike is the most comfortable e-bike on the market. Now equipped with a 48V10Ah lithium-ion battery, with a strong and efficient 500W geared rear hub motor.
Top speed 20mph
15-30 Mile Range
LCD Display displays the power of the unit, the speed, distance, and battery life
9 levels of pedal assist function
X-treme Malibu Elite 24V Electric Beach Cruiser Bike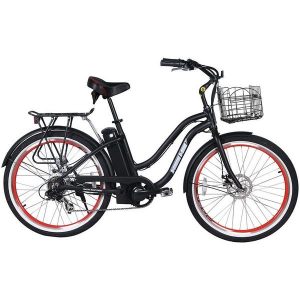 The X-treme Elite Cruiser is a hardtail Cruiser perfect for the beach, neighborhood and even your daily commute. It has a lightweight frame and state-of-the-art lithium batteries while maintaining an affordable price range of under $1000. It has plenty of space to carry groceries or stuff. It is one of the lightest full-sized best electric beach cruiser  models out there.
Max Speed 20 Mph
Range of 20 Miles
Fast Charging 300-watt motor
WHY BUY FROM US?
WHAT DIFFERENTIATES US FROM THE COMPETITION IS WE ARE E-BIKE EXPERTS.
Large generic retailers lack the specialized knowledge to answer specific questions on assembly warranty and product benefits and features. We know our bicycles inside and out so we can give you the details and knowledgeable answers to any of the questions that you might have.
WORRIED ABOUT PRICE?
We are an authorized dealer for our suppliers and we ship directly from their warehouse. With the lowest prices guaranteed we cut out the cost of maintaining a brick-and-mortar store and we pass the savings directly on to you. We offer fast free shipping zero taxes anywhere except for Wyoming and Washington State, easy returns, personalized customer service, and a PCI compliant 128-bit secure checkout. We understand buying an electric bike is a significant investment so we want to make the buying process as easy as possible for you. Go ahead and place your order today and if you have any questions give us a call or email us at support@electricbikecity.com.
---
Share this post
---
Liquid error: Could not find asset snippets/relatedblogs.liquid
---
---